Backpack (2012)
I wanted to make a lightweight but still durable pack suitable for hikes with a few nights out. This would imply a size range of about 30-50 liters for my packing style. This was my second try, which turned out pretty nice.
To reduce weight there should be no frame, so the pack must provide good compression to keep the shape over the full volume range. I have previously used a Granite Gear Virga pack, which convinced me that a design with a rolled CCF pad vertically strapped to the front of the pack will do the job. The only problem with that design was that the pack bulged considerably between the attachment points of the compression straps, which is easily solved by spreading the force from the straps with fabric to the back part rather than attaching the straps directly to a discrete point. The CCF pad will spread compression force on the front side. The main drawbacks of a frameless design are that you can only carry a limited weight and you have to be very careful when packing to prevent any hard objects from protruding into your back.
Outside:

The main compartment of the pack is sewn from a single piece of X-Pac VX21 (see pattern below) with an added roll top made from a separate rectangular piece. This fabric is reasonably abrasion-resistant and structurally very stable. The final pack is not submersible, but sufficiently waterproof for any rain storms that I may encounter :)
Pattern: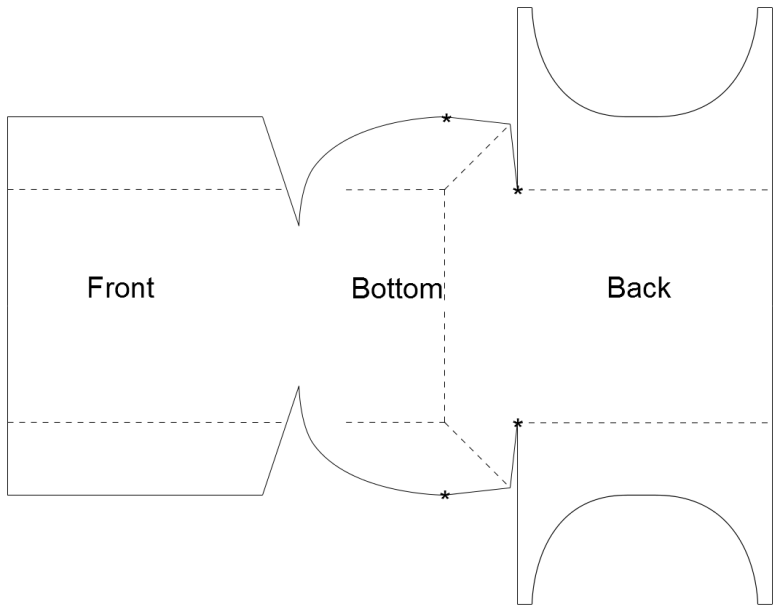 The shoulder straps are made from 20mm webbing supported by some 3D mesh with red grosgrain edging. At the top they are attached through the seam between the main compartment and the roll top to a 50mm webbing reinforcement.
Back: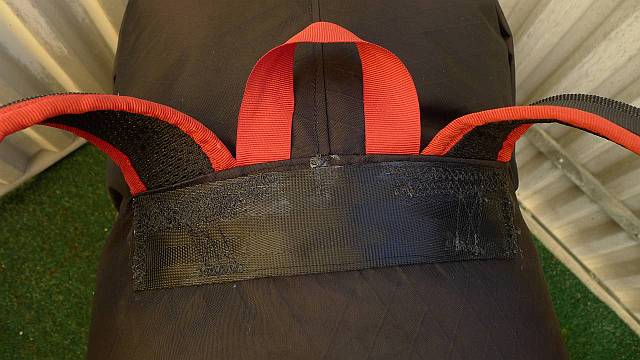 The bottom attachments are made to fabric 'wings' created by folding a corner of the fabric to create a small triangle (see the *'s in the pattern). Thus I didn't have to add a separate attachment triangle.
Detail: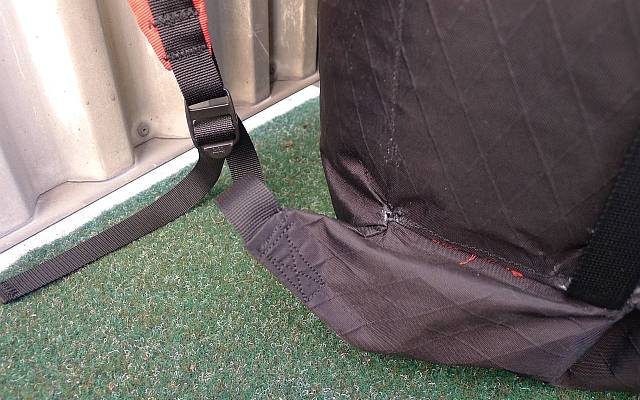 The inside of the X-Pac fabric is white and here you can clearly see that the pack is made from only two parts. I did try to attach two small side pockets as well which didn't turn out as I expected so I removed them again. Traces of those stitches will be forever visible in the fabric.
Inside: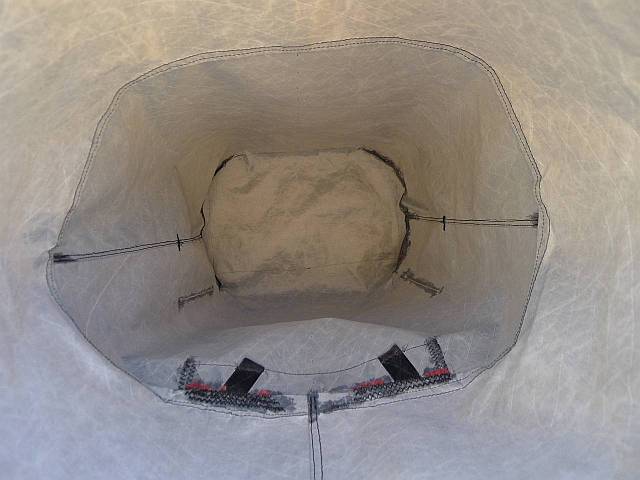 I will probably add a sternum strap and load lifters as well before the pack is completely finished, but so far I am very satisfied with the result.
And the weight is … 413g.